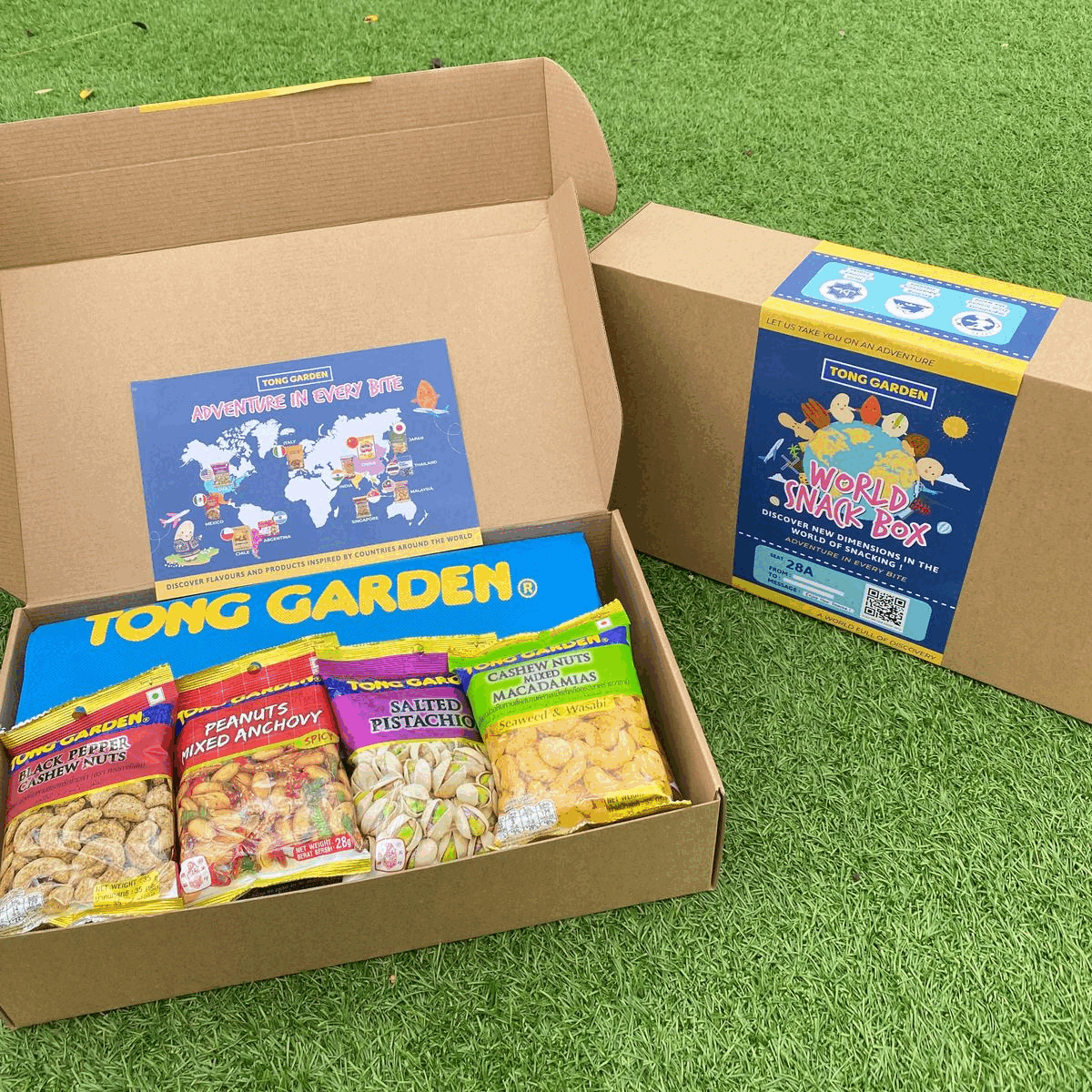 World Snack Box - A Taste Of The World
We wish to highlight the uniqueness of each countries traditions by assembling snacks that embody the taste of their popular dishes, bringing out the various flavours of these 13 countries around the world.

Chile, China, Germany, India, Italy, Japan, Malaysia, Maxico, Philippines, Singapore, Taiwan, Thailand and USA.
Enjoy the flavours of these countries by shopping at Tong Garden Online now.
Limited time only.
Flavours And Origin
Let us take this chance to introduce you to the 13 savory snacks packed in the World Snack Box!
Cheezy Pizza Cashew Nuts Mixed Almonds 170g - Italy is the origin of Pizza. As we know, cheese is a must on pizzas. Why not put them on nuts!
Dried Manga 130g - Philippines' mangos are sweet and tangy. Our dried mangos are specially sourced from the Philippines for all the tropical fruits lovers.
Organic Chestnuts 120g - Craving for some sweet roasted chestnuts along the streets of China? Now you can have it at home.
Masala Broad Beans 180g - The taste of India's famous seasoning, Masala. Made with many aromatic spices.
Crispy Seaweed Almond Slices Original 180g - This Thai seaweed snacks is filled with protein and fibers. Perfect healthy snacks staples.
Dried Plums 50g - The beautiful plum blossom is the national flower of Taiwan. Our sweet plums are a 100% souced and made in Taiwan.
Mexican Peanuts 65g - As the name suggests, this deliciously hot peanut represents the home of Mexico.
Daily Pack Apple Pie 28g - The perfect on-the-go energy boost from Germany to get us started for the day. Packed with essential nutrients for you!
Black Pepper Cashew Nuts 35g - Nothing likes home. Our all-time favourite black pepper crab in the form of cashew nuts! Try it now!
Salted Pistachios 35g - Our premium quality pistachios, are sourced from its home, The United States of America.
Peanuts mixed with anchovy 30g - The authentic Malaysia's Nasi Lemak won't be complete without a generous spoonful of crispy peanuts mixed anchovy on the side.
Seaweed and Wasabi Cashew Nuts Mixed Macadamias 35g - These nuts feature a subtle combination of sharp wasabi and a mild nori seaweed, representing the authentic flavours of Japanese cuisine.
Jumbo Raisins Medley 30g - Chile is the top grower of grapes. Sweet Thompson raisins, tart golden raisins, and brightly flavored crimson raisins come together in a perfect medley for raisin lovers.
With this, we proudly introduce the lineup of our flavourful nuts. Get our limited-edition World Snacks Box at your doorstep today!
Ps. We have Asia Snack Box and Europe Snack Box available for purchase on our website too!